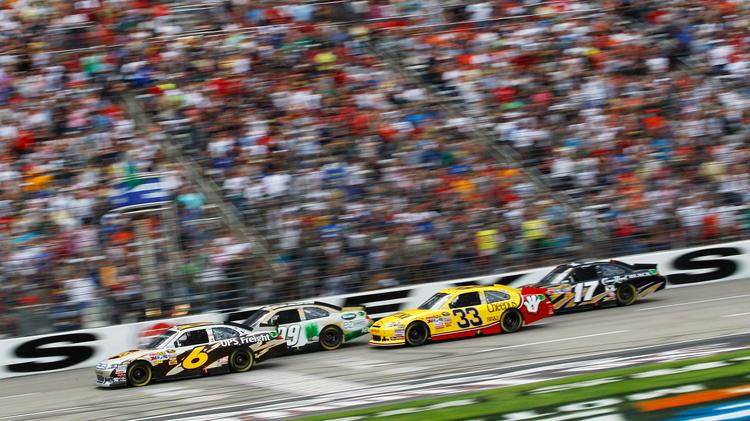 A NASCAR Sprint Series race at Texas Motor Speedway.
After 15 seasons,
Texas Motor Speedway
President and CEO
Eddie Gossage
said it was time to repave and reprofile the 1.5-mile oval configuration track that plays host to NASCAR and Indycar races in North Texas.
Construction begins Monday on a multimillion-dollar upgrade expected to trade up the Texas Motor Speedway pavement and change the banking on two of the turns in the raceway.
"This will be a huge change to what has been sitting here for 20 years, from a competition standpoint," Gossage told the Dallas Business Journal."This is a big deal in racing."
The upgrades will add a new layer of asphalt to the existing pavement, add an expansive French drainage system to help with drainage difficulties and reduce the banking in turns 1 and 2 by four degrees.
Construction is slated for completion in March, with the O'Reilly Auto Parts 500 NASCAR doubleheader slated for April 7-9.
"We are doing this very quickly, but our bread and butter is the asphalt out there," Gossage told me. "Once it's paved, we'll have about five weeks until the first race and in that time Goodyear has to test tires and bring in tires that will work for all three cars on that asphalt."
Gossage said Goodyear makes a different tire for every racetrack — and the new racetrack at Texas Motor Speedway will also require every racecar to get a new set of tires.
The racetrack will also get racing rubber meshed into the pores of the asphalt, which will help make it a good track. The virgin asphalt doesn't make for good track racing, he said.
"This will simulate older asphalt, which is slicker and makes for better racing," he added.
Along with better racing, the repaving — along with a new drainage system — will help alleviate past weather delays, which caused the Texas Motor Speedway to delay races for hours as they wanted for the track to dry.
Candace Carlisle/Dallas Business Journal