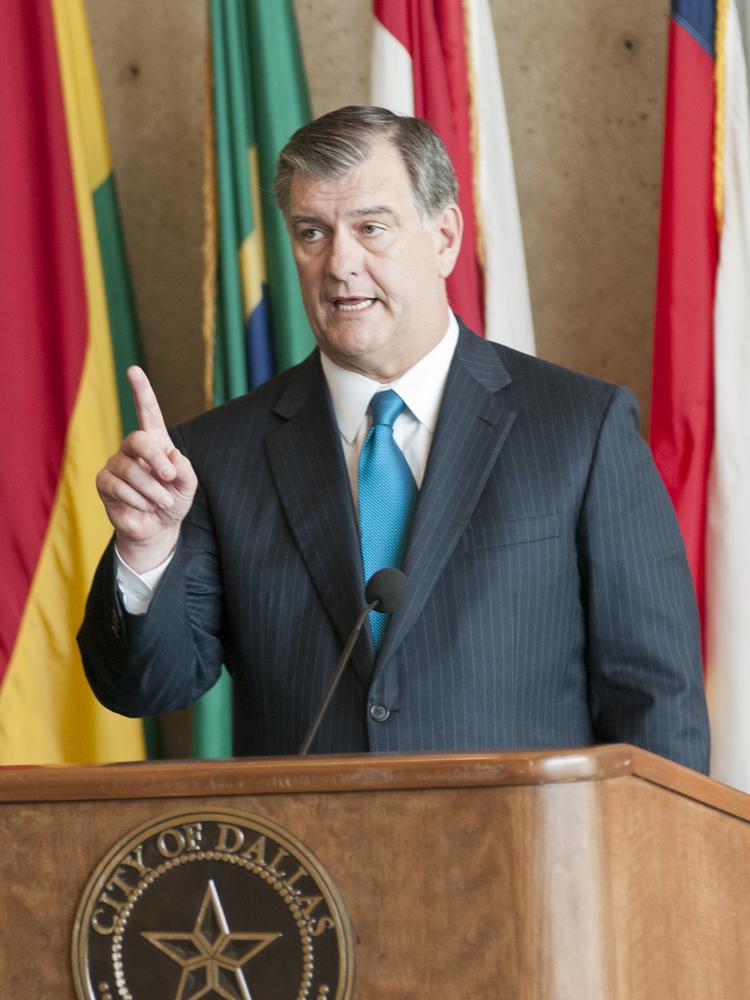 Jake Dean
The sprawl between the Trinity River levees and the two Margaret bridges could become Dallas' Central Park, bigger and better than that patch of grass and trees in Manhattan. But for now, it's just a ditch.
Fair Park remains the Grand Dame of Dallas. But the art deco dame turned 80 last year, and she needs a facelift.
And a Jetson's-esque bullet train between Dallas and Houston — privately funded — could bring an entirely new buzz to Big D's already improving downtown. But it's going to take some heavy lifting to get that project on track.
Sure, city leaders have to make sure the potholes get patched and the garbage gets collected. But they also have to think big, the mayor said.
"There are people who argued that we shouldn't build DFW Airport," Rawlings said. "There were people who argued that we shouldn't do DART (Dallas Area Rapid Transit), because it was too big of an idea.
"We should never, never let small-minded thinking get in the way of vision," he continued, drawing applause in the jam-packed room. "That doesn't mean that you don't take care of the nuts and bolts. You've gotta walk and chew gum at the same time."
Rawlings called the Trinity project, Fair Park and high-speed rail "game changers" for Dallas' future.
How to develop the land around the Trinity River has been debated for 25 years in Dallas, Rawlings noted. The mayor is pushing a plan to fund the park primarily with private money, and in October he announced a $50 million donation from
Annette Simmons
, the widow of late billionaire
Harold Simmons
. It was the largest private donation toward a city project in Dallas history, and will fund 20 percent of the estimated $250 million cost of the park.
"We want to build a park between the two Margaret bridges that will redefine Dallas, that will be our Central Park," Rawlings said, referring to the Margaret Hunt Hill and the Margaret McDermott bridges. "A massive piece of land — as opposed to just a ditch."
For Fair Park, home of the State Fair of Texas, Rawlings is pushing a public-private partnership for revitalization. 2017 will be a make-or-break year for the park in South Dallas.
"This was built for the Centennial (Texas Centennial Exposition of 1936)," Rawlings said. "It's the largest collection of art deco buildings in the United States. The question is whether it's going to get to the bicentennial. If we don't get through it right now, I don't think it happens."
Rawlings said there is "a really good chance" that a privately funded bullet train will be constructed to connect Dallas and Houston.
"There are some folks who don't want it," he said. "The argument is eminent domain through some of the ranch land between Dallas and Houston. But if we do this, boy, talk about a game changer."
Other topics Rawlings touched on included:
On the postponement of a major bond election from May to November — "I just felt it was unwise to have a bond election in May. We have a new city manager coming on board, we couldn't agree on the priorities on the City Council, and we had $7 billion of overhang. Until we cleaned up a couple of things, I couldn't do it. Let's just take care of some of this stuff this spring, and let's have the bond election in November."
Dallas has the highest rate of childhood poverty in the nation, and one of the highest rates of teen-age pregnancy in the world.
Since 2010, 72 major companies have moved their corporate headquarters to the Dallas area. Names include AT&T, Active Network, Christus Health, Fluor and Toyota North America.
More than 90 developments are under way in the city's downtown, including 14 hotels under construction, and the number of residents living downtown has grown to more than 10,000. Another 7,000 residential units are under construction and 6,400 residential units have been announced.
With the expiration of the Wright amendment restricting air travel in and out of Dallas Love Field, the city-owned airport has grown from serving roughly 9 million passengers per year to almost 15 million people per year, Rawlings said. The city of Dallas fully owns Love Field and jointly owns the much larger Dallas Fort Worth International Airport, which continues to grow its traffic as well, the mayor said. Much of the growth at DFW Airport has occurred because of a dramatic expansion of international flights.