With
a $55 million merger
playing out in the North Texas real estate market, Irving-based Property Advisers Realty Inc. saw an opportunity to take on a new project by acquiring The Madison along the Dallas North Tollway in Addison.
The real estate investment firm acquired the 288,920-square-foot office tower, called The Madison, at 15851 Dallas Parkway in Addison from Plano-based
Granite Properties for an undisclosed sum.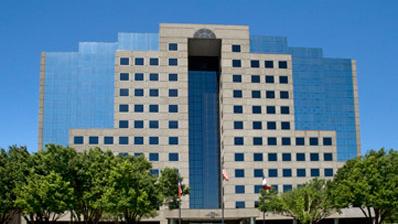 "This is our sixth property we have purchased in the last four years and it's our largest,"
Jerry Reis
, president and CEO of Property Advisers Realty, told the
Dallas Business Journal.
"We love this submarket and we saw the opportunity the building presents," Reis said, adding he planned to spend "quite a bit of money," upgrading the lobby and common areas of the building.
Reis and his firm also own two other office buildings in the immediate area that are 100 percent leased. He plans to do the same thing with The Madison, he said.
One of the Addison office building's largest tenants — St. Louis-based marketing firm Ansira Partners Inc. — is expected to leave the property next year as it shops for 100,000 square feet of office space following the acquisition of Dallas digital marketing firm SQ1.
Last year, Ansira, a data-driven marketing firm, purchased digital marketing firm SQ1 for
roughly $55 million
, and, while the company sits in about 44,000 square feet of office space at The Madison, it needs bigger digs to accommodate its new co-workers, say sources familiar with Ansira's real estate search.
Sources also say Ansira has looked at office space in downtown Dallas, but needs a high parking ratio, which can be difficult to find within the central business district.
SQ1 also has a Dallas office nearby at 15950 Dallas Parkway in Addison. The acquisition was SQ1 was one reason why Ansira posted
an 8.8 percent increase in revenue
in 2015 to $123 million.
When Provident Advisers Realty closed on The Madison on Friday, the building was 84 percent leased, Reis said. With Ansira leaving the building, he said this would open up a big space for a new company.
"When they leave our building occupancy goes home 15 percent, but we'll work around that," he said. "We aren't concerned about it. We love it when tenants roll out, it gives us an opportunity to move rents up."
Reis,
Michael Foster
and his son,
Patrick Reis
, of Property Advisers Realty represented themselves in the real estate deal. A JLL team, in conjunction with Evan Stone, represented the seller, Granite Properties, in the deal.
Granite Properties had owned the Dallas Parkway building for a decade and decided to sell it, along with Tollway Towers earlier this year, COO
Greg Fuller
said.
"It was time for us to sell," said Fuller, who added he's seen an appetite for any type of property in Dallas-Fort Worth from investors.
"I'm not sure where we are in the cycle, I believe we are late in the cycle and that's not usually the time to find lots of opportunities," he added.
Meanwhile, Irving-based Property Advisers Realty is looking to buy additional properties in North Texas, with plans to make some of its own real estate moves.