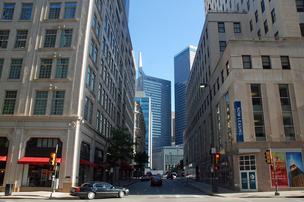 Real estate prices aren't curbing restaurant development in downtown Dallas, with 58 new eateries opening in the area so far this year.
And including planned projects, roughly 92 restaurants are in the development pipeline. At this time, 10 are slated to open in 2017, reported Downtown Dallas Inc.


That's a stark contrast from downtown Dallas two decades ago.
Jack Gosnell
, a senior vice president with real estate firm CBRE, remembers when the only activity on downtown's streets were people waiting for buses.
But redeveloping the area, including adding residential and office space, has created a demand for food services.


"There's a natural progression to a city that's reinventing itself," said Gosnell, who focuses primarily on retail and restaurant leasing in Uptown and downtown.
"Things happen, and when you first start redeveloping, the first inhabitants are restaurants and food services, because they're immediate needs."
Today, several factors make Dallas' core attractive to restaurateurs. Not only is it home to 10,000 residents, roughly 135,000 employees work within the area's office buildings, giving the area built-in lunch and dinner crowds.
It's also walkable, allowing diners to travel between Uptown and Deep Ellum.
"I think the majority (of restaurateurs) are looking for the 24/7 crowd," said
Shalissa Perry
, vice president of marketing with Downtown Dallas Inc. "We also don't want to forget that visitors and tourists are visiting here for conventions and conferences."
Downtown's density and accessibility have attracted a variety of local concepts, from high-end steakhouses to snow cone stands.
Mike Karns
recently opened a second location of his tacos-, tortas- and mescal-centric concept Tortaco at 2100 Ross Ave.
"Our urban core is changing dramatically," Karns said of his decision to open in downtown. "Residential growth and restaurants play off each other and grow together."


But the area is also catching the attention of eateries from around the world. A space that formerly housed Stephan Pyles' restaurant at 1807 Ross Ave. will be the future home of Corrientes 348, an Argentinean steakhouse.
"We're getting tremendous new restaurants coming in from outside the city, and most of that is because of Dallas' elevation in the national scene, because we're growing at a ridiculous rate," Gosnell added.


Cost isn't deterring restaurateurs looking for space. Commercial real estate data firm Xceligent reported that while most prices are negotiable, they typically run between $17.58 to $26.16 per square foot. Gosnell has seen spaces lease for up to $35 to $40 per square foot.


But that's still a bargain compared to nearby Uptown, where prices can range up to $60 per square foot.